SQUARE D ILINE ® PANELBOARD 400,600,800, AND 1200 AMP

Square D Parts
FA, FH, FC,IF, AND Q2 FRAMES
KA, KH,KI,KC,IK, AND Q4 FRAMES
SQUARE D BREAKERS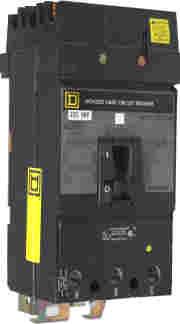 Square D Circuit Breakers are stocked extensively and offered along with quality service, fair pricing, and fast turnaround on repairs and replacements. Molded Case Circuit Breaker test results are available upon request. We Specialize in the obsolete, hard to find, older style circuit breakers as well as current style frames from SQUARE D. Our Square D Breaker Inventory is now available for sale online at our new ecommerce site www.SouthlandElectrical.com.
L FRAME 400 AMP I LINE® LA/LH MC HIGH MAGNETIC WITHSTAND CIRCUIT BREAKER FOR MISSION CRITICAL LOADS
*Click here for Square D LA Circuit Breakers at our online store
CONTINUOUS CURRENT RATING@40°с
AC MAGNETIC TRIP SETTINGS
EXTRA HIGH INTERRUPTING
CURRENT LIMITING
CATALOG NUMBER
CATALOG NUMBER
3POLE 480 Vac LA/LH MC CIRCUIT BREAKER
200
4000
LA34200MC
LH34200MC
225
4500
LA34225MC
LH34225MC
250
5000
LA34250MC
LH34250MC
400
8000
LA34400MC
LH34400MC
Square D STANDARD INTERRUPTING: LA
*Click here for Square D LA Circuit Breakers at our online store
| | | | | |
| --- | --- | --- | --- | --- |
| 400 AMPERE FRAME LA | LOW | HIGH | 600 Vac, 250vdc | 600 Vac, 250vdc |
| 125 | 625 | 1250 | LA26125 | LA36125 |
| 150 | 750 | 1500 | LA26150 | LA36150 |
| 175 | 875 | 1750 | LA26175 | LA36175 |
| 200 | 1000 | 2000 | LA26200 | LA36200 |
| 225 | 1125 | 2250 | LA26225 | LA36225 |
| 250 | 1250 | 2500 | LA26250 | LA36250 |
| 300 | 1500 | 3000 | LA26300 | LA36300 |
| 350 | 1750 | 3500 | LA26350 | LA36350 |
| 400 | 2000 | 4000 | LA26400 | LA36400 |
Square D HIGH INTERRUPTING: LH
*Click here for Square D LH Circuit Breakers at our online store
| | | | | |
| --- | --- | --- | --- | --- |
| 400 AMPERE FRAME LH | LOW | HIGH | 600 Vac, 250vdc | 600 Vac, 250vdc |
| 125 | 625 | 1250 | LH26125 | LH36125 |
| 150 | 750 | 1500 | LH26150 | LH36150 |
| 175 | 875 | 1750 | LH26175 | LH36175 |
| 200 | 1000 | 2000 | LH26200 | LH36200 |
| 225 | 1125 | 2250 | LH26225 | LH36225 |
| 250 | 1250 | 2500 | LH26250 | LH36250 |
| 300 | 1500 | 3000 | LH26300 | LH36300 |
| 350 | 1750 | 3500 | LH26350 | LH36350 |
| 400 | 2000 | 4000 | LH26400 | LH36400 |
Square D CURRENT LIMITING: IL
*Click here for Square D IL Circuit Breakers at our online store
| | | | | |
| --- | --- | --- | --- | --- |
| 400 AMPERE FRAME IL | LOW | HIGH | 480 Vac | 480 Vac |
| 300 | 1300 | 3200 | IL24300 | IL34300 |
| 350 | 1500 | 4000 | IL24350 | IL34350 |
| 400 | 1500 | 4000 | IL24400 | IL34400 |
Square D Lc FRAME 600 AMPERE THERMAL MAGNETIC
*Click for Square D LC Circuit Breakers or LI Circuit Breakers at our online store
CONTINUOUS CURRENT RATING@40°с
AC MAGNETIC TRIP SETTINGS
EXTRA HIGH INTERRUPTING
CURRENT LIMITING
LOW
HIGH
CATALOG NUMBER
CATALOG NUMBER
2POLE 600 Vac
300
1500
3000
LC26300
LI26300
350
1750
3500
LC26350
LI26350
400
2000
4000
LC26400
LI26400
450
2250
4500
LC26450
LI26450
500
2500
5000
LC26500
LI26500
600
3000
5400
LC26600
LI26600
3POLE 600 Vac
300
1500
3000
LC36300
LI36300
350
1750
3500
LC36350
LI36350
400
2000
4000
LC36400
LI36400
450
2250
4500
LC36450
LI36450
500
2500
5000
LC36500
LI36500
600
3000
5400
LC36600
LI36600
Square D 800 AMPERE FRAME: MA
STANDARD INTERRUPTING
*Click here for Square D MA Circuit Breakers at our online store
| | | | | |
| --- | --- | --- | --- | --- |
| 800 AMPERE FRAME MA | LOW | HIGH | 600 Vac, 250vdc | 600 Vac, 250vdc |
| 300 | 1500 | 3000 | MA26300 | MA36300 |
| 350 | 1750 | 3500 | MA26350 | MA36350 |
| 400 | 2000 | 4000 | MA26400 | MA36400 |
| 450 | 2250 | 4500 | MA26450 | MA36450 |
| 500 | 2500 | 5000 | MA26500 | MA36500 |
| 600 | 3000 | 6000 | MA26600 | MA36600 |
| 700 | 3500 | 7000 | MA26700 | MA36700 |
| 800 | 4000 | 8000 | MA26800 | MA36800 |
Square D HIGH INTERRUPTING: MH
*Click here for Square D MH Circuit Breakers at our online store
| | | | | |
| --- | --- | --- | --- | --- |
| 800 AMPERE FRAME MH | LOW | HIGH | 600 Vac, 250vdc | 600 Vac, 250vdc |
| 300 | 1500 | 3000 | MH26300 | MH36300 |
| 350 | 1750 | 3500 | MH26350 | MH36350 |
| 400 | 2000 | 4000 | MH26400 | MH36400 |
| 450 | 2250 | 4500 | MH26450 | MH36450 |
| 500 | 2500 | 5000 | MH26500 | MH36500 |
| 600 | 3000 | 6000 | MH26600 | MH36600 |
| 700 | 3500 | 7000 | MH26700 | MH36700 |
| 800 | 4000 | 8000 | MH26800 | MH36800 |
Square D 1200 AMPERE FRAME
HIGH INTERRUPTING: NA
*Click here for Square D NA Circuit Breakers at our online store
| | | | | |
| --- | --- | --- | --- | --- |
| 1200 AMPERE FRAME MH | LOW | HIGH | 600 Vac, 250vdc | 600 Vac, 250vdc |
| 600 | 4000 | 8000 | NA26600 | NA36600 |
| 700 | 4000 | 8000 | NA26700 | NA36700 |
| 800 | 4000 | 8000 | NA26800 | NA36800 |
| 900 | 5000 | 10000 | NA26900 | NA36900 |
| 1000 | 5000 | 10000 | NA261000 | NA361000 |
| 1200 | 5000 | 10000 | NA261200 | NA361200 |
Square D EXTRA HIGH INTERRUPTING: NC
| | | | | |
| --- | --- | --- | --- | --- |
| 1200 AMPERE FRAME MH | LOW | HIGH | 600 Vac, 250vdc | 600 Vac, 250vdc |
| 600 | 4000 | 8000 | NC26600 | NC36600 |
| 700 | 4000 | 8000 | NC26700 | NC36700 |
| 800 | 4000 | 8000 | NC26800 | NC36800 |
| 900 | 5000 | 10000 | NC26900 | NC36900 |
| 1000 | 5000 | 10000 | NC261000 | NC361000 |
| 1200 | 5000 | 10000 | NC261200 | NC361200 |
INTERRUPT RATINGS (kA)
| | | | | | | |
| --- | --- | --- | --- | --- | --- | --- |
| | LA | LH | LC | LI | MA | MH |
| 240V | 42 | 65 | 100 | 200 | 42 | 65 |
| 480V | 30 | 35 | 65 | 200 | 30 | 65 |
| 600V | 22 | 25 | 35 | 100 | 22 | 25 |
[Visit our e-commerce site: www.SouthlandElectrical.com]